Where People Gather To Have FUN With Their Dogs !
TURNS N WRAPS is a privately owned facility located in Chino Valley, AZ, offering Agility Classes at all levels and hosting 7 NADAC Trials.                       NEWS FLASH in 2017 we are offering 8 TRIALS!
turnsnwraps@gmail.com   928-636-1267
Turns N Wraps has been experiencing some changes.  Good Ones!  Our last two trials have grown in size.  We are very excited about the growth and that everyone is enjoying themselves at our trials.  My dilemma  is planning for the sudden growth. So here are our Labor Day plans!  More FUN, more  ribbons ordered, more food to serve and something special for every TITLE. And we are ordering PREFECT weather!  Come join us in COOL Prescott.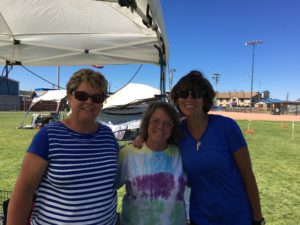 I am so proud of two of my students!!
Judge Murrelet Halterman at our Williams trial, who has judge for us 3 times in the last year, honored two of my students as "Most Improved Handlers"                 Darla Cassidy and Karen Russell.               Congratulation girls.
BE SURE TO LOOK AT TRIAL HIGHLIGHTS
Mark your CALENDAR  for our 2016 Trials
Mark these dates on you calendars!!!!
2016 Turns N Wraps Calendar
Feb. 5 – 6- 7     Phoenix, AZ    Patty Leroy
March 25-26-27 Phoenix, AZ  Stefan Elvstad
May 7 – 8  Prescott, AZ  Bernie Doyle
July 9 – 10  Williams, AZ   Murrelet Halterman
Sept 2 – 3- 4   Prescott, AZ   Yvette Cook  
Oct. 8 – 9 Williams,  AZ, Greg Battaglia
Due to ASCA taking our date, which we had for 5 or more years, and taking the only field available to hold agility trials in Prescott, Turns N Wraps has moved their October trial to Williams for 2016 .  I hope all of you can join us as the leaves  turn wonderful colors  in the crisp cool high country. Make your motel reservations early.
Nov. 4 – 5- 6  Phoenix, AZ  Pam Smith